A Vogel (BioForce) Sinuforce Dry Nose 15ml
A Vogel (BioForce) Sinuforce Dry Nose 15ml
A Vogel (BioForce) Sinuforce Dry Nose 15ml
A.Vogel Sinuforce Dry Nose Nasal Spray contains moisturising and soothing ingredients to help dry nasal passages and mucus crusts. It forms a protective layer over the affected nasal tissues and binds moisture, helping to prevent dehydration.
Children (2-12 years): 
Spray once into each nostril, 1-2 times a day for a period not exceeding 30 days.
Adults:
Spray once or twice into each nostril, 3-5 times daily for a period not exceeding 30 days.
This product is not suitable for children under 2 years old.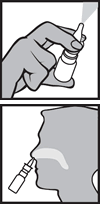 Holding the bottle upright, remove the plastic cap and insert the nozzle into the nostril.Depress the pump by placing the fingers on either side of the nozzle.
Note: It may be necessary to prime the pump before use by depressing the spray mechanism once or twice until a fine spray appears.
Sodium hyaluronate, sodium dihydrogen phosphate dihydrate, disodium hydrogen phosphate dodecahydrate, sodium chloride, Chamomilla recutita (Chamomile) aroma, water.
How long can it be used for?
Sinuforce Dry Nose Nasal Spray can be used for a maximum of 30 days.
Use within 12 weeks of opening.
Who can't take it?
This product should not be taken by anyone who is allergic to any of the ingredients.
Pregnancy and Nursing: this product can be used as directed, at the dose stated.
Driving and using machines: no restrictions with this product
Suitable for vegetarians and vegans
Suggested Use
Important - Please read before purchase

While we try to ensure that product information is correct, on occasion manufacturers may alter their ingredient lists. For additional information about a product, please Contact Us on 0845 388 8076.

Content on this site is for reference purposes and is not intended to substitute for advice given by a medical practitioner, pharmacist, or other licensed health-care professional. Discontinue use and consult a doctor if adverse reactions occur.

Information stated regarding dietary supplements is not intended to diagnose, treat, cure, or prevent any disease or health condition.

Keep out of reach of children. Store in a cool, dry place. Do not use if seal under cap is broken or missing.